TOUCHING NARCISSUS. 2020 in collaboration with Marina Grau
¿Es posible que toquemos lo inmaterial o nos sintamos tocados por lo intangible?
Esta video-performance recoge una serie de ejercicios que investigan sobre el tocar y ser tocado; física y virtualmente, a partir de los espacios y capas que nos ofrecen mass media.
Para acercarnos a esta idea exploramos el mito de Narciso, comprendiendo el cuerpo y su representación como el encuentro con uno mismo, la voz y el sonido como el otro que le reclama, y la cámara como el reflejo que muestra lo que quiere ser visto.
A.P.I.O: ANONANDADA. PEGAJOSA. INSÓLITA. ONDULANTE. 2020
A.P.I.O stunned, sticky, unusual, wavy
Los dos meses de cuarentena ha cambiado la percepción del tiempo y del espacio; la reclusión esconde un viaje surrealista, que confunde los cuentos naif de profundo significado con historias codificadas de terror para adultos.
The two month of quarantine at home have changed the perception of time and space; the reclusion hides a surrealistic trip, it confuses the naif tales of deep meaning with coded horror stories for adults.
A VECES QUIERO SER UN CACTUS, A VECES QUIERO SER UNA FLOR.  / SOMETIMES I WANT TO BE A FLOWER, SOMETIMES I WANT TO BE A CACTUS. 2016
Video Installation inside of the oven.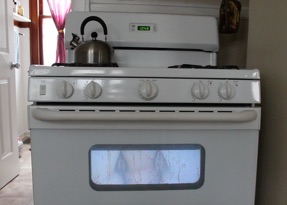 ATAR PARA EL ESPEJISMO. ALTAR FOR MIRAGE. 2013
Altar al espejismo trata sobre la inevitable aparición del recuerdo desde lo imaginario y lo ilusorio.
«Lo real es la única cosa del mundo a la que no nos habituamos nunca… Lo ilusorio es la manera por excelencia de la negación de lo real.» Cément Rosset.
El altar representa las experiencias utópicas y difusas de lo irreal. Durante unos segundos, estas experiencias pasan por el subconsciente y evitan las realidades circundantes. El altar exhibido insinúa el espejismo de un recuerdo lejano y recrea la alucinación que nos sumerge en la ilusión.
La pieza refleja la necesidad de encontrar la libertad a través del uso de presencias inexistentes frágiles y engañosas. Estas presencias provienen de imágenes reconocidas transformadas en recuerdos desvaídos que damos vida a través de ilusiones.
El espejismo da valor a los universos privados e imprecisos, y no escapa a la realidad. Busco un lugar común donde los universos de realidad e irrealidad puedan convivir sin juzgarse.
How our illusive memories appear from our imagination and illusion…
"The reality is the only thing in the world that we never get used to… The illusory is the main way to negate reality", Cément Rosset
The altar represents the utopian and diffused experiences of the unreal. For a few seconds, these experiences pass through the subconscious and avoid surrounding realities. The displayed altar insinuates the mirage out of a distant memory and recreates the hallucination that immerses us in the illusion.
The piece reflects the necessity to encounter freedom through the use of fragile and misleading nonexistent presences. These presences come from recognized images transformed into faded memories that we give life by illusions.
The mirage gives value to the private and imprecise universes, and does not  escape off reality. I look for a common place where the universes of reality and unreality could live together without judgement.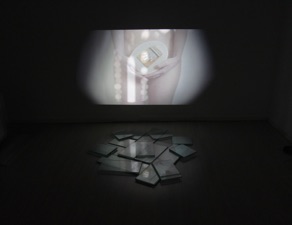 Proyecto Exchange: http://accion-exchange.blogspot.com.es
El proyecto Exchange se basa en el intercambio de partituras de acción entre diferentes artistas. El video presentado es la interpretación de la partitura escrita por Luis Elorriaga.
For Exchange project several performers exchanged scores of action. The presented video is the interpretation of the score writed by Luis Elorriaga.

CUENTOS CÍCLICOS DEL ESTERNÓN. 2012
Cuentos Cíclicos del Esternón es una recopilación de imágenes ligadas a sensaciones provenientes de la ansiedad consciente. Para asumirla, aceptarla y respetarla, la única salida fue visualizarla, imaginando, a modo de meditación, los elementos y el movimiento que habitaban en mi interior.
Cyclical tales of sternum is a collection of images linked by the feelings of conscious anxiety.  To assume, accept and respect them, the only way out was to visualize and imagine, like  a form  of meditation, the movements and elements that dwelt within me.
EL BAILE DE LEPTIRICU. 2006
And I do not stop dancing…
Video documental sobre los últimos días en casa de Stefan.
Video documentary about the summer that I spend in the house of Stefan.
RECUERDO DE UNA NOCHE BLANCA. 2004
Collage de sueños: sillas, piernas, ruedas y babas.
Dream collage: chairs, legs, wheels and slobber.