2010. Feria de diseño independiente Nómada Market, Madrid (50 min. aprox) 
Colectivo Federica: Alba Soto, María Vázquez y María Celestino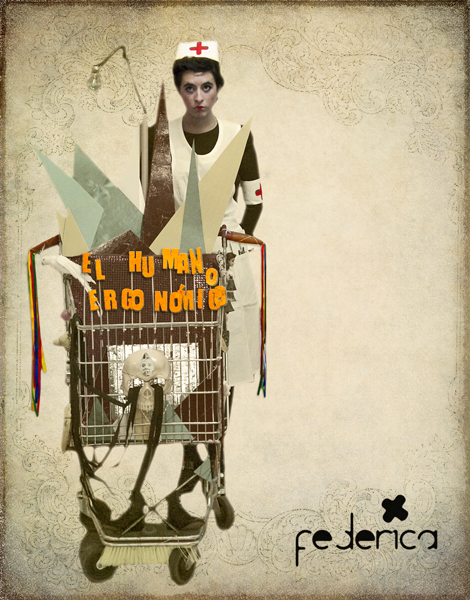 EL HUMANO OBJETO – EL OBJETO HUMANO
El Humano Ergonómico ha sido diseñado para adaptarse y cubrir cualquier necesidad tanto física como afectiva. Escucha, reacciona y da. Durante casi una hora, el Humano Ergonómico, con la ayuda de sus azafatas, ofreció sus servicios gratuitos a una gran parte de la clientela de la feria. Todo el mundo lo recibió con asombro y satisfacción, no sabemos si por su fiel servicio o por su gratuidad.
THE HUMAN OBJECT – THE OBJECT HUMAN
The Ergonomic Human has been design to cover every physical and emotional needs. It listens, react and gives. During almost an hour, the Ergonomic Human, with the help of its hostess, offered its free services to a great part of the clients of the fair. Everyone welcomed the Ergonomic Human with astonishment and satisfaction, we don ́t know if it was because of its loyal service or because they were it was for free.
Camara: Uri Rivero y Miguel Morenza